Welcome to
Demon Hunter Wiki.
The wiki about monsters and demon hunting that anyone can edit. 63 articles since June 3rd, 2009. About this wiki | New pages | Categories | Help pages | Wiki tutorial
What's New
Contribute to this wiki
To write a new article, just enter the article title in the box below.
Not sure where to start?
If you want to know how to create an article and what guidelines to follow, see the Tutorial.
Featured article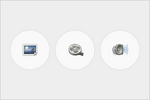 The Black Dog is a spectral hound, said to be an evil ghost or a demon that brings death or disaster to all who see it. It inhabits lonely roads, the sites of hangings, cemeteries, and the crossroads. This spectral hound is able to physically harm human beings with either its bite or its claws (which leave scorched wounds). Most cases of black dog sightings deal with malignant spirits, but a few are helpful to man, keeping him company and protecting him while he walks along a lonely road at night. The Black Dog is of a huge size, comparable to a mule.
Featured Video
Use this section to show a featured image or video